Prices
Our ponies can accommodate just about any event setting. They can be walked up and down the sidewalk, on the lawn, under a carport, down the street, etc. 1 pony is ideal for up to 15 children for 1 hour's worth of rootin' tootin' ridin' fun. If you are expecting more than 15 kids you may want to consider additional time or adding another pony.
---
Ponytise

Ponytisement is a unique way to advertise! Let us do it for you. Our pony becomes a walking billboard that displays your Grand Opening, Open House, Specials of the Week, Super Sale, anything you can think of to attract your customers attention! Or have our pony simply display your unique message. And an adorable pony walking down the street is definitely an eye catcher. Call for details and special pricing.
PonyGram

PonyGram lets that someone special know just how much you care! Our ponies can deliver what you provide to us. For example, flowers, cards, stuffed animals, box of chocolates or any other creative and special something you can think of. Can you imagine the look on their face when they see a precious pony walk up to their door or into their office on the 4th floor to deliver something thoughtful from you? Call us for details and special pricing.






** For this month, mention this website and receive $10 off your event! **
Check back periodically for other specials and/or updates.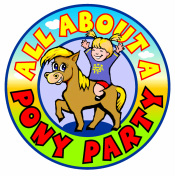 ☼ ~~~~~~~~~ ** Testimonials ** ~~~~~~~~~ ☼


On Behalf of Traci, myself and everyone who attended, we would like to thank you and Sam for all the patience, love and attention the children received yesterday. People are talking about Sam and the children had an experience beyond expectation, it was a great time.

If you like please feel free to list Traci and myself as references of the total professionalism, courtesy and style to which you, your company and especially Sam displayed. Children, parents, neighbors are texting, and if you go to my face book, you can see many pictures of Sam. Again, thank you.

Best Regards,
Frank G.

***********************************************************************************************************************************************************************

You and Sammy are just the sweetest and we all had a GRAND time today!!!! Myranda loves that pony!!!!
Thanks again for all you did today~you really made that girl's day!!!

Gail R.

***********************************************************************************************************************************************************************

The kids had a GREAT time, and also heard that you were great with all the kids! Sounds like all of you had a great, fun time, I'm so bummed I missed it! Sam is adorable, so fluffy, Neil said he even smelled good! You should be getting some more calls from all of Makenna's friends, you and Sam are going to be at all the kids parties!

Thank you Jennifer, you and Sam made my kids party such a fun and special day!

Erin N.

***********************************************************************************************************************************************************************

What a delight both you and Sam were. The feedback from the school and the families was overwhelmingly positive. Several families are ready to adopt Sam! You'll get a letter from the school as well, but from me, thank you so much for coming and being a part of such a fun and important day for us.

Warm regards,
Susan P.

***********************************************************************************************************************************************************************

Thank you so much for making Max's party so memorable. It was truly a pleasure meeting you, Sam, Peanut Butter and Jelly! In the midst of the excitement, I realized after you left that we didn't invite you to eat!! I'm soooo sorry!! We had a delicious spread too!! We look forward to meeting the rest of your gentle and precious animals on Max's 2nd birthday!!

Kind regards,
Monika T.

***********************************************************************************************************************************************************************

I just wanted to thank you again for participating in our Spring Reunion Carnival! We had a record number of attendees this year and it looked like you and your team handled it perfectly! I know the kids absolutely loved the ponies and as you promised you left the area nice and clean, thank you so much! I look forward to working with you again.

Cheers,
Lisa D.

***********************************************************************************************************************************************************************

Thank you so much for bringing Samantha and Spirit for Julia's party yesterday. Julia was super excited and still today talked about the party all day long - especially Spirit. We appreciate how hard you work to make these events happen and we want you to know how much you brightened a seven year-old's life!

Warmly,
Jeff and Lori