FAQ's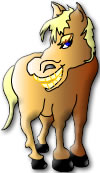 ​
How do I make a Reservation?
*Call or email us for details and availability for the day of your event.
Email
P
onyFun@AllAboutaPonyParty.com
or
simply fill out the form on the Contact Us
page.

Our address is PO Box 1474, San Martin, CA 95046
A deposit may be required for your event.
We accept Cash or Checks.
​
---
​
​Additional Charges

Depending on your location, a travel fee may apply. We will let you
know before you reserve your pony party. Please note, there is
a $30 fee added for all returned checks. All late weekend
bookings made within 7 days from the date of the party or event
must be paid in cash upon our arrival. Thank you for understanding.
We are fully insured. If your event requires
additional insurance coverage to be added to our own
insurance, there may be a nominal fee you will need to pay
depending on the circumstance. This service must be paid in
advance and is in addition to the cost of the party. We need at
least three (3) business days to work with the insurance company.
What if it's raining?
We bring the ponies in rain or shine! Umbrellas can be used
when riding if it rains. However, if severe weather were to
occur, the rides may be cancelled or rescheduled for
another day available.
Is there a weight limit?
Yes! Even though our ponies are stout and strong, for safety reasons, there is a
75 pound weight limit for riding.
What if the pony has to go potty?
Our ponies are very good about "going" before they get
to your place, however, sometimes they simply can't "hold" it.
Just in case, we bring a poop bucket so we can clean up the mess on the
spot and take it with us. Unless, of course, someone requests it for their garden. After all, it does make great fertilizer!

​ Is there anything else I should know?
​
Since you're wondering, we have a short list of important things to remember:

* For the comfort of other riders, children must ride in dry
clothes or you may use your towel over the saddle.
* Our ponies are used to being around dogs, however, your dog
may be startled or intimidated around our ponies. We may ask you to
restrain your dog(s) if we feel it's necessary.
* Ponies have "blind spots" which means they cannot see directly in
front of or behind them. Even though they try to be aware of where
everyone is, they may not see an unexpected child, so we ask that
children do not follow too close behind or in front of the pony while
moving or giving rides.
* Ponies are very sensitive. They can feel a fly land on their fur! If
necessary, we will ask children not to kick or jump up and down in
the saddle while riding.
* To prevent fingers from accidentally being mistaken as food, please
don't feed our ponies. Ponies do love treats but get lots of them at
home.
* The ponies have been taught to only walk while on the job. Please
don't be offended if your child is declined the opportunity to trot,
regardless of your child's riding ability.
* The children need to be able to hold on securely if they're able, we
don't allow food or drink while riding the pony.
* For safety reasons, we only allow one rider at a time.



​
Cancellation Policy
If your event required a deposit, we do not offer refunds for cancellations. If you need to cancel your reserved event for any reason, with the exception of severe weather, you may reschedule and apply your initial deposit to a different date & time that is available.